Romanza – The Structures of California Designed by Frank Lloyd Wright
Romanza – The Structures of California Designed by Frank Lloyd Wright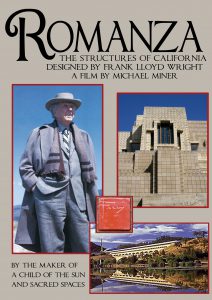 In 1909, Frank Lloyd Wright designed a summer home for George and Emily Stewart in Montecito, California, Wright's first California commission, and his only prairie school building in the state. Thus began a 50 year relationship between Wright and the Golden State, a relationship that would last until Wright's death in 1959…and even beyond.
Wright designed more than 80 projects for California, and saw more than 25 built. The buildings were both grand and modest, public and private, and came from each major era of Wright's 7-decade-long career."Romanza", the third Frank Lloyd Wright documentary from Writer/Producer/Director Michael Miner, is the story of that relationship.
With unprecedented access to every California Wright building, "Romanza" journeys all over the state, from the Los Angeles textile block houses famous for their appearances in dozens of Hollywood films, to Wright's only San Francisco commission, a building which he designed as a "glass of champagne", from the cinder block homes of the San Joaquin valley, to the "Ship's prow" home on the beach of Carmel bay, from Wright's contentious relationship with oil heiress Aline Barnsdall, to perhaps the most charming of all Frank Lloyd Wright stories, the design for a doghouse in response to a 12-year-old's letter. We visit all 25 buildings, including the 3 California "legacy" projects, built long after Wright's death. Also included is substantial material on Wright's unbuilt California work, some of the most fantastically imaginative structures he ever designed.
California. Although he was more prolific elsewhere, in no other place did Wright better demonstrate his passion for the beauty, the magic, and the wonder, of the art form that is
architecture.
The Wright designed structures featured in this film:
George Stewart House, Montecito
Aline Barnsdall House, Los Angeles
Alice Millard House, Pasadena
William Storrer House, Hollywood
Samuel Freeman House, Hollywood
Charles Ennis House, Los Feliz
Paul Hanna House, Palo Alto
Bazett/Frank House, Hillsborough
Arthur Mathews House, Atherton
George Sturges House, Brentwood
Arch Oboler Compound, Malibu
Maynard Buehler House, Orinda
Mrs. Clinton Walker House, Carmel
V.C. Morris Gift Shop, San Francisco
Robert Berger House, San Anselmo
Wilbur Pearce House, Bradbury
Randall Fawcett House, Los Banos
Robert Walton House, Modesto
Stewart Ablin House, Bakersfield
Nina Anderton Shops, Beverly Hills
Kundert Clinic, San Louis Obispo
Marin County Civic Center, San Rafael
Pilgrim Church, Redding
Charles Feldman House, Berkeley
Nakoma Clubhouse, Clio
NTSC • STEREO • 88 minutes