Pilgrim Church to Finish Wright Building
Pilgrim Church to Finish Wright Building
In one of the most exciting developments ever in the world of Frank Lloyd Wright architecture, the Pilgrim Congregational church of Redding, California has announced that it intends to complete construction of Wright's original design.
As featured in "Sacred Spaces", the church's poignant story is that of a fledgling Northern California congregation who, due to lack of funds, was able only to construct a small portion of Wright's original grand design back in the early 1960s. Built by the church members themselves, the building's realized section represents only about 20% of the proposed structure.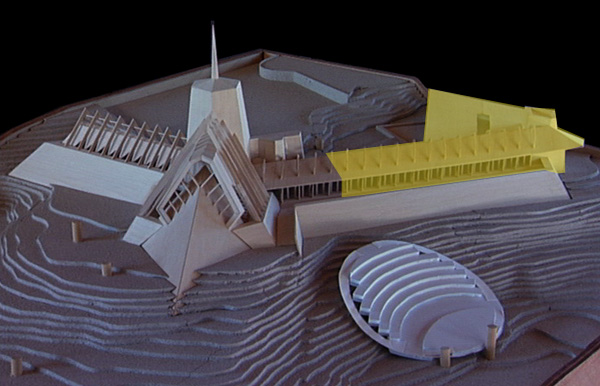 The church has established a building fund as a first step in the process. According to sanctuary task force chairman Leon Nelson "We are actively pursuing both individual and corporate donations to help realize Wright's original vision. We still own all of the land on the site where the original church was to have been built, so other than modifications due to changes in building code, the finished church will be exactly as Wright intended."
Those wishing to contribute to the building fund may do so by visiting the church's website.