Florida Southern College to Receive "Save America's Treasures" Grant
Florida Southern College to Receive "Save America's Treasures" Grant
LAKELAND, Fla. – Florida Southern College has been awarded a $350,000 Save America's Treasures grant to restore the Annie Pfeiffer Chapel, the centerpiece of the College's Frank Lloyd Wright campus.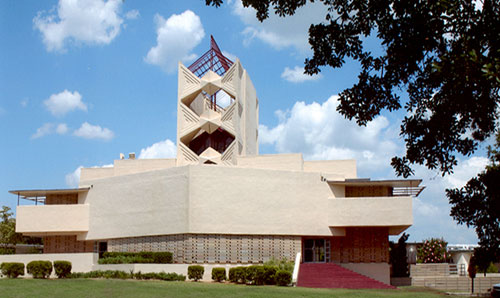 Florida Southern received the only Save America's Treasures grant in Florida and one of just 40 nationwide. The federal program preserves, conserves, and rescues "the nation's most significant cultural and heritage resources," a news release from the Save America's Treasures program says.
Florida Southern College is home to 12 Wright-designed structures, making it the largest single-site collection of his work in the world. In Annie Pfeiffer Chapel, restoration work to be funded by the grant will include:
Repairing and replacing deteriorating "textile" blocks used to construct the building.
Replacing rusted portions of the steel tower atop the chapel.
Replacing the main roof areas of the building.
Removing and replacing 1960s duct work with hidden ducts.
Replacing doors and windows in keeping with the original design.
The work, which is expected to begin this summer and take eight to 12 months to complete, is being overseen by preservation architect Jeff Baker of Mesick Cohen Wilson Baker Architects in Albany, N.Y.