Romanza –
The Structures of California Designed by Frank Lloyd Wright
Wright designed more than 80 projects for California, and saw more than 25 built. The buildings were both grand and modest, public and private, and came from each major era of Wright's 7-decade-long career. "Romanza", the third Frank Lloyd Wright documentary from Writer/Producer/Director Michael Miner, is the story of that relationship.
A Child of the Sun –
The West Campus of Florida Southern College
A Child of the Sun is the story of Florida Southern College, whose west campus contains the largest single-site collection of Frank Lloyd Wright architecture anywhere in the world.
Originally planned as an "Academic Village" of more than 20 structures, only half the project was completed, remaining today as Wright's "Unfinished Symphony."
Sacred Spaces –
The Houses of Worship Designed by Frank Lloyd Wright
Frank Lloyd Wright has long been regarded as America's greatest architect. Famous for such works as the Guggenheim Museum and Fallingwater, Wright designed over 1,000 buildings during his 70-year career. Sacred Spaces examines his brilliant, but less well-known, houses of worship.
Watch now on demand
---
Unity Temple, Frank Lloyd Wright's Modern Masterpiece: An Endangered Treasure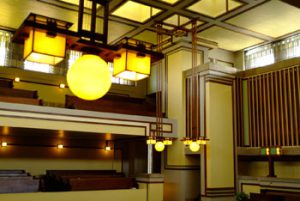 On Tuesday, April 28, the National Trust for Historic Preservation named Frank Lloyd Wright's 1909 masterpiece, Unity Temple, to its list of America's 11 Most Endangered Historic Places. For Unity Temple, this is a significant, though not necessarily joyful, honor. This is a critical time for Unity Temple–a critical crossroads—and to have such a prestigious organization as the National Trust acknowledge Unity Temple's urgent needs is immensely meaningful. In the year that we celebrate the centennial of the building's dedication, we may also rejoice that Unity Temple has, in fact, stood the test of time—-albeit with a great deal of love and money—-and still stands here today, unlike so many historic structures that have not been so lucky and are now simply memories: Sullivan's Schiller Theatre, New York's Penn Station, the Larkin Building…there are too many to name. …